With more than 75 years experience in the construction industry Industrial Floor Corporation services include trained researchers, formulators, and applicators for the provision of specialty flooring systems.
Industrial Floor Corporation products are designed specifically for heavy-duty Industrial, Commercial, and Institutional users.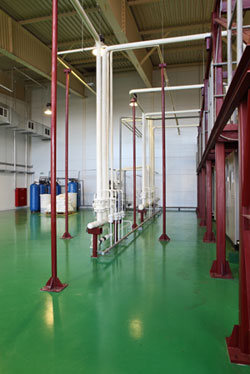 AVAILABILITY & COST:
Information on services, cost data, and estimates are available from the home office. Cost estimates will be given on the basis of information available. Fixed quotations are prepared after visual inspection of the floor is made by one of our field representatives.
TECHNICAL SERVICES:
We maintain installation crews who are thoroughly experienced in the use of our products, and we shall be pleased to submit proposals covering the cost of any repair or completed overlay that may be required. All of our installations are fully guaranteed and we carry full insurance coverage for your protection.
ASSEMBLY & INSTALLATION:
All products are installed nationwide by trained in-house IFC personnel. Floor installations involving several thousand square feet can be completed, cured, and returned to use on a weekend, thereby eliminating costly "down-time" and production interruption.
CODES & CERTIFICATION:
Our products and their installation have been accepted by USDA, FDA, OSHA, and other federal, local, and private regulatory agencies.